Trumpet/Mermaid V-neck Floor-Length Sequined Prom Dresses With Split Front
#112790
Product Reviews
Write a review
Trina Jester
2019-08-22 11:57:39
I am so happy with my purchase! The photo of this dress doesn't do it justice- it's gorgeous and more shiny than it appears. I was nervous about ordering the custom size and it fits perfectly. I think that buying a dress of the same quality would cost hundreds more. The material is luxurious and accentuates all the right areas. I felt like a movie star when I tried it on! More pics to come after my friend's big day.

ADRIANNESAULS25
2019-05-07 08:26:59
This was a beautiful dress. All of the gold dresses we ordered for the wedding were so phenomenal and the custom sizing option was great!

mmadisonad
2019-04-04 12:46:56
I have been looking for a (not so) Mother-of-the-Bride(y looking) dress for a May wedding for the past two months and have trolled a couple of on-line sites. I needed a color specific evening dress and I became afraid when I started reading reviews for some of the sites, especially since I'm in the USA and it appeared that most of the more reasonably priced formal dress sites are overseas. Many of the sites had negative comments about late shipping, size incompatibility, lack of customer service reponse, cheaply made...and so on. This was one of the sites that I came across that had decent reviews on YouTube as well as on-site reviews with pictures from what appear to be actual customers. This dress in particular was reeeeaaaaly on sale as one of the stock dresses and the 2 day shipping was only $2 more than the standard shipping. I was skeptical that I'd get the dress in a short time and slightly afraid that it would be too small. Needless to say, I was pleasantly surprised when the dress came in a couple of days and actually was a little too big, which is much better than too small. I only need to make a couple of slight adjustments and have a couple of ideas for embellishment and then I'll happily post the picture. Thanks JJ's House!!
Stefania
2018-07-04 20:27:30
I loved this dress and got so many compliments. I loved the fabric and the way the dress hugged my curves in the right places. The dress was made with high quality and looked like a very expensive dress. I was very happy with my purchase.

DoeDots
2018-06-11 18:03:47
The dress is stunning and hits the light beautifully while showing off your body lines. This dress created a gorgeous uninterupted silhouette for my body, and it recieved many compliments.

I got a custom fit, but the waist and the cap sleeves were still too loose. I highly recommend to go down 1 or 2 sizes for the waist so that the dress hugs your figure (I had to sew mine down 3 sizes). The sleeves also flared out when I got the dress, so I had to sew it tighter to fit my shoulders.

Other than the sizing issues, I am so happy and I will purchase from JJ again!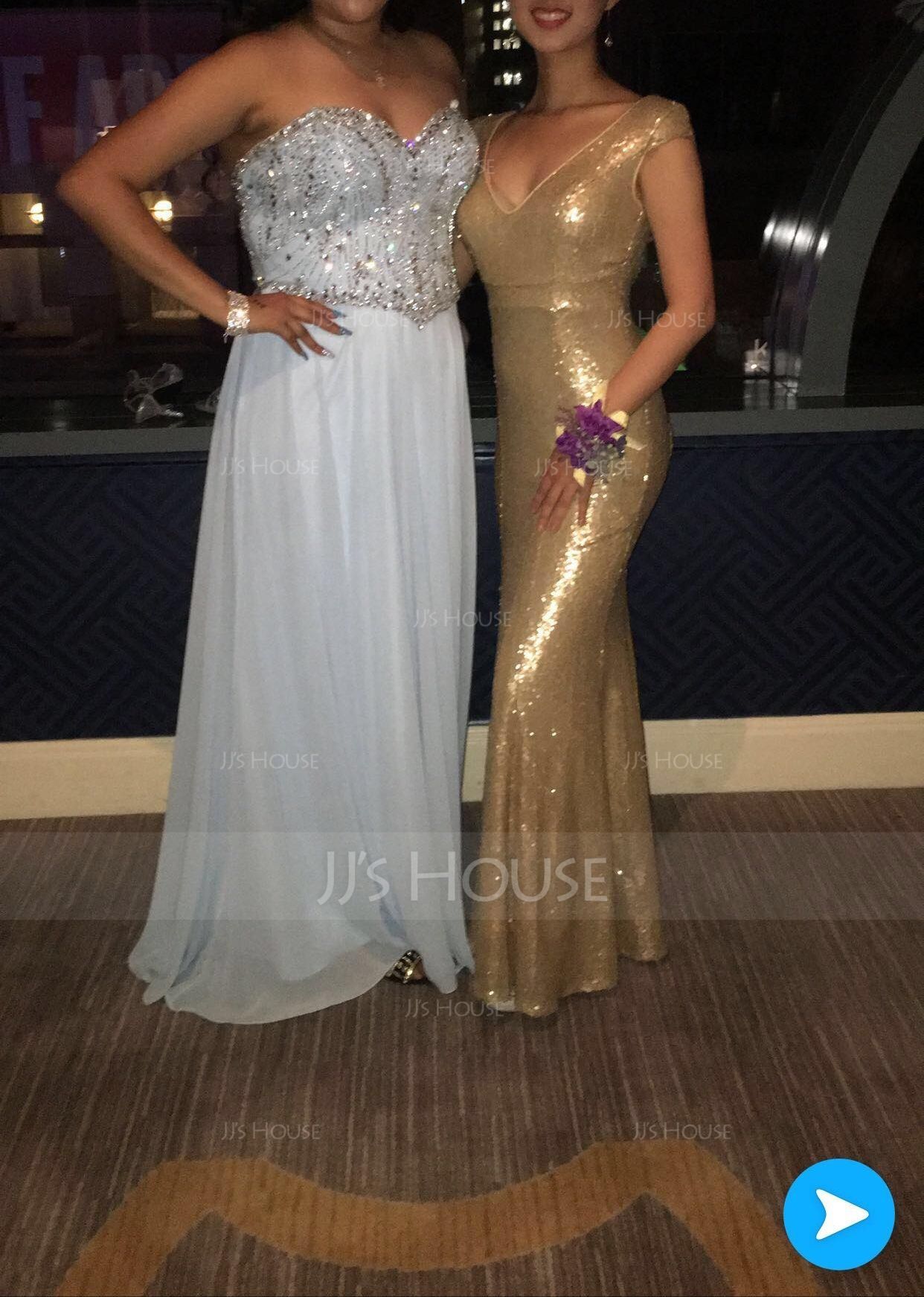 princesssarah801
2018-05-03 04:58:12
V. Happy with the dress. I custom sized it so it fits beautifully. I can't wait to wear it for prom. (I recommend that anyone who's not going to wear heels with the dress take off length from the height and hollow to floor so its not too long, that's what i did and it fit perfectly.)
lilythefabulous01
2017-11-25 21:22:28
I love this dress! It was beautiful material and looked gorgeous on. My hips are narrow, but it didn't effect the hang of the dress. I will definitely order from JJs house again.

nsjjhd.jkio
2017-04-10 02:10:07
Wow! It is an amazing dress!
This dress is wonderful when match with my shoes. It's the same with my expectation.
ipba222
2017-03-30 02:11:20
It's the best dress I ever see. How excellent the dress is! II really love it and can't wait to wear it in the coming event. I will surely recommend JJshouse to everyone I knew and will purchase again.