Out of Stock
Trumpet/Mermaid Off-the-Shoulder Floor-Length Jersey Evening Dress
#65553
Product Reviews
Write a review
Autumn
2018-06-05 07:36:30
I ordered this dress for our engagement photos and I'm so happy i took a chance! It fit like a dream! I did have the sleeves sewn tighter around the arm, as they were a bit "puffy".

iorgmom
2018-06-04 09:45:06
It was exactly as described and it looked gorgeous. Many complements were received and we sent them to JJs House to order for themselves.

Marlie
2018-05-22 02:07:43
The dress looks exactly like this picture! I was so pleased when it arrived as buying a dress online can be a little daunting but I was not disappointed. I ordered the dress in a navy blue size 14 and being someone who hasn't always been incredibly confident about my body this really made me feel just that, confident! I totally recommend this dress. Thank you JJShouse
I think the dress is beautiful! It was the perfect fit for me and the colour and fabric are amazing. I would definetly recommend the dress!

kthomas1
2017-09-10 08:01:09
Gorgeous dress. Simple yet classy. I wore it to the Marine Corps Ball and it fit perfectly. It is made of a stretchy material so the dress was slimming yet comfortable. I was really impressed with how well it fit and the way it held up perfectly the entire night!

Rahel
2017-08-28 03:35:31
Das Kleid hat einen sehr schweren Stoff und ist auch in mehreren Lagen geschneidert, die hohe Qualität ist also schnell zu erkennen. Die Farbe ist wie angezeigt. Ich habe von meinen beiden Grössen die ich tragen kann die kleinere gewählt und bin der Meinung, dass eine Grösse kleiner wahrscheinlich noch schöner wäre. Der Reisverschluss am Rücken ist zwar gut verarbeitet, wellt sich aber beim Sitzen gerne (das kann aber mit einfachem Hautklebestrefen behoben werden).
Ich bin sehr zufrieden mit dem Kleid und dem Service. Ich musste das Kleid innerhalb weniger Tage haben und der Kundendienst hat die Anfertigungszeit so verkürzen können, dass das Kleid innerhalb weniger Tage und noch rechtzeitig angekommen ist. Ich bin sehr beeindruckt!

zara.mackey96
2016-12-20 00:33:05
This item looks so amazing in person compared to the model. I loved the fit and the material, it definitely shows every curve so i suggest a body shaper but be careful cause if it it tight you can see the lines from it. The zipper in the back was also dipping in but once i put on the shaper it went right away. 100% recommend!

Allyson Kay Dempster
2016-12-19 08:21:30
This dress was everything I hoped it would be and more. The dress arrived so quick and I tried it on for my best friend and she had tears in her eyes. It was so comfortable and the material was gorgeous. I was concerned it would be too long, I ordered a size 6, I weight about 135lbs and I am 5'4" tall. I wore 4 inch heels and it just barely grazed the floor, not to the point you would be concerned about stepping on it or tripping over it. I wore it to a wedding and felt like a princess all night. I have never received so many compliments. I had complete strangers coming up to me saying I looked stunning and that I was the most beautiful woman in the room (of course that was before the bride arrived!) I could not be happier, I have already told so many people about JJs House and I will absolutely purchase from them again. This will be my go to site for all my dresses. I'm so glad I stumbled across their page online. Thank you for the perfect dress!!!!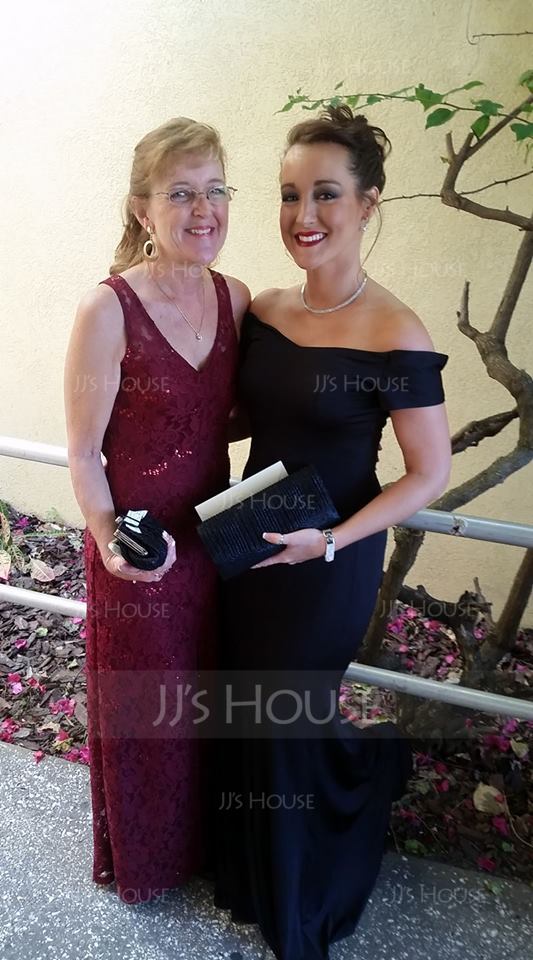 Samariya Smith
2016-12-07 12:11:37
It took some back and forth efforts, but this dress came out JUST RIGHT! The customer service was wonderful, and I received my dress in a timely manner. I got so many compliments on this dress! Should I need another formal gown in the future, I will definitely be ordering from JJ House. Even though it wasn't the dress I initially wanted, I was pleased with what I received.

V2nd8shop
2016-10-13 06:14:58
Ordered with custom sizing for daughter's homecoming. Dress arrived very quickly and fit perfectly. Dress is beautiful and well made. I was nervous and hesitant to order online but this was a very positive experience for us.