Sheath/Column Sweetheart Knee-Length Satin Mother of the Bride Dress With Ruffle Beading
#6163
Product Reviews
Write a review
Hertha Franziska Bürgmayr
2019-04-23 02:37:52
Kleid war für meine Mama. Wir haben sie angemessen und das Kleid passt super. Leider hat sie ein Hohlkreuz und etwas mehr Bauch, darum hat sie hinten ganz leichte Falten, aber das ist wirklich jammern auf hohem Niveau. Für sie war es die erste Internetbestellung, weil sie in den Geschäften nichts passendes gefunden hat. Wir werden wieder mal etwas bestellen. :)

Bianca Jamison
2018-10-03 11:24:35
We purchased the dress in the color champagne. It is absolutely beautiful and was a perfect fit!!!!! It's actually a grandmother of the bride dress and my mom is so excited to wear it!!!!!!!!
mkenchel
2017-07-05 16:20:34
Ordered my dress 10 days ago and was anxious about using this company. Customer service answered my request to change my sizes within the hour even though the order was already confirmed. My dress and shoes have arrived and are gorgeous!!! The workmanship is quality . Thanks JJ's House.
jacky.falkingham
2017-04-19 02:18:17
Sent measurements off ,I was worried in case the dress would be too short but after what seemed a short time in receiving the dress. No need the dress fitted absolutely perfect in everyway, Beautiful colour ,Would definitely buy again Marvellous
isabelsax
2017-04-17 08:25:45
Barbara.taylor
2016-09-26 01:18:04
Arrived within the days stated, great quality and fit.
saftamalka
2016-07-13 13:51:09
Great dress & a wonderful service !!! Many thanks !
Pat Rivard
2015-10-25 23:37:48
Excellent quality and fit. Mother of the Bride dress that was a real show stopper! 2nd from the right. Navy blue, short ribboned satin dress with bolero jacket.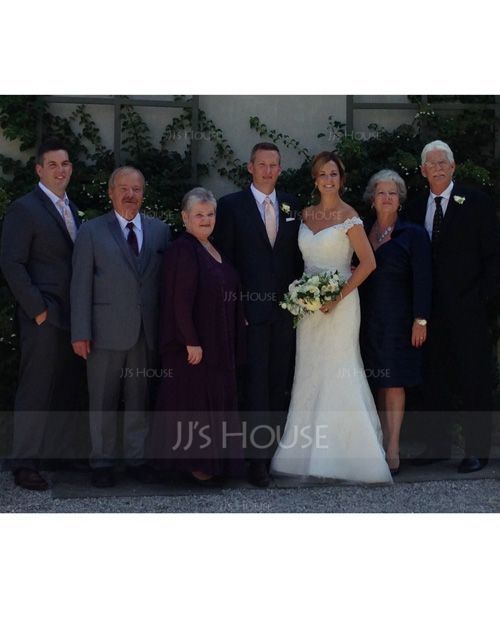 evah ncube
2014-11-26 19:59:26
THANK YOU FOR PROMPTLY REPLYING TO MY ENQUIRY REGARDING THIS DRESS.I AM PLACING THE ORDER NOW.

Regards,
Evah.
joan_belfitt
2014-07-09 22:21:51
I ordered this dress and came in record time 12 days from ordering it to receiving it.I was terrified of ordering it in case it was wrong didn't like and all that I could have saved all the worry because it is beautiful and fits me perfect.Thank you so very much I will be ordering again.Joan