Ball-Gown Square Neckline Court Train Satin Organza Wedding Dress With Embroidered Ruffle Beading
#11665
Product Reviews
Write a review
scottylotty
2019-11-28 16:05:20
Bin total zufrieden mit allem und sehr glücklich damit ist mein Traumkleid
Jessica
2019-09-24 04:27:11
I chose to do the custom size. It was a perfect fit and is just as pictured. Shipped on time. I'm excited and can't wait until my wedding date!

giebo1993
2019-09-21 04:37:20
I was unsure weather to get my dream dress online but I have no words to how amazing my dress is. I'm so so happy.

Crystallebeau10379
2018-10-26 19:53:21
Beautiful ball gown wedding dress. Beautiful detail so pretty I just cried. I never thought I could afford a dress like this on my own . I am going to marry in eureka springs thorn crown chapel and have a horse and carriage there. This gown is going to look so wonderful there. I can't post a picture or I would but it's my first time to get married and I want everything to be a surprise. I'm so glad I found this site I looked on line searching for a perfect dress but they were thousands . This material satin and perfectly done embroidery I'm just amazed at the price. You can save so much I thank God I found this site. Thanks to the wonderful people who created the gown.
Julie
2018-03-28 06:04:15
I was sooo nervous about ordering online. Even more so when my order didn't show up under my orders tab. I emailed them and got a quick response. I got more worried when I emailed and asked about it being shipped since it hasn't arrived. They quickly informed me they were behind and offered me a % off my next order or a % refunded. I took the % refunded and it was back in my account in a few days. My dress just arrived I tried it on and it fit perfectly. It's more beautiful than I had even imagined!!! Can't wait for my fh to see it.
Julia
2017-09-25 08:29:01
Hallo

wie viel cm Spielraum habe ich durch die Schnürung?

Meine Maße liegen zwischen Größe 52 und 54.

Danielle Goyette
2017-09-02 19:12:51
I was really nervous buying my wedding dress online and not literally seeing it in person and trying it on. I received my dress afraid to look in the box but I could not have been happier with the end result. It fits perfectly and I would not hesitate to order from JJs again.
Angeliceyes80
2017-05-03 14:44:01
Dear JJ'S House,

I received my A-Line/Princess Strapless Court Train Satin Wedding Dress With Embroidered Sash Beading (002005281) with Royal Blue Sash Color and Embroidery Color Silver today..THANK YOU SO MUCH For making this an easy, affordable, and amazing experience. I wish everything in my wedding planning had Gone this well. I will admit I was nervous at first but JJSHouse has been amazing from the ordering process, to being there whenever I needed them and the dress that normally would have cost me well over $1100.00 only cost me $248 leaving me room to buy other much needed things for my wedding while still looking and feeling like a Queen! I will be sending you pictures of me on my wedding day!Thank you so much from us both again and I will be using you again and referring you to all of my friends!

THANK YOU!
BEST,
LISA IN NEW YORK
Bianca Jankowski
2017-04-30 22:44:33
Super Kleid perfekt gepasst super verarbeitet. Jederzeit wieder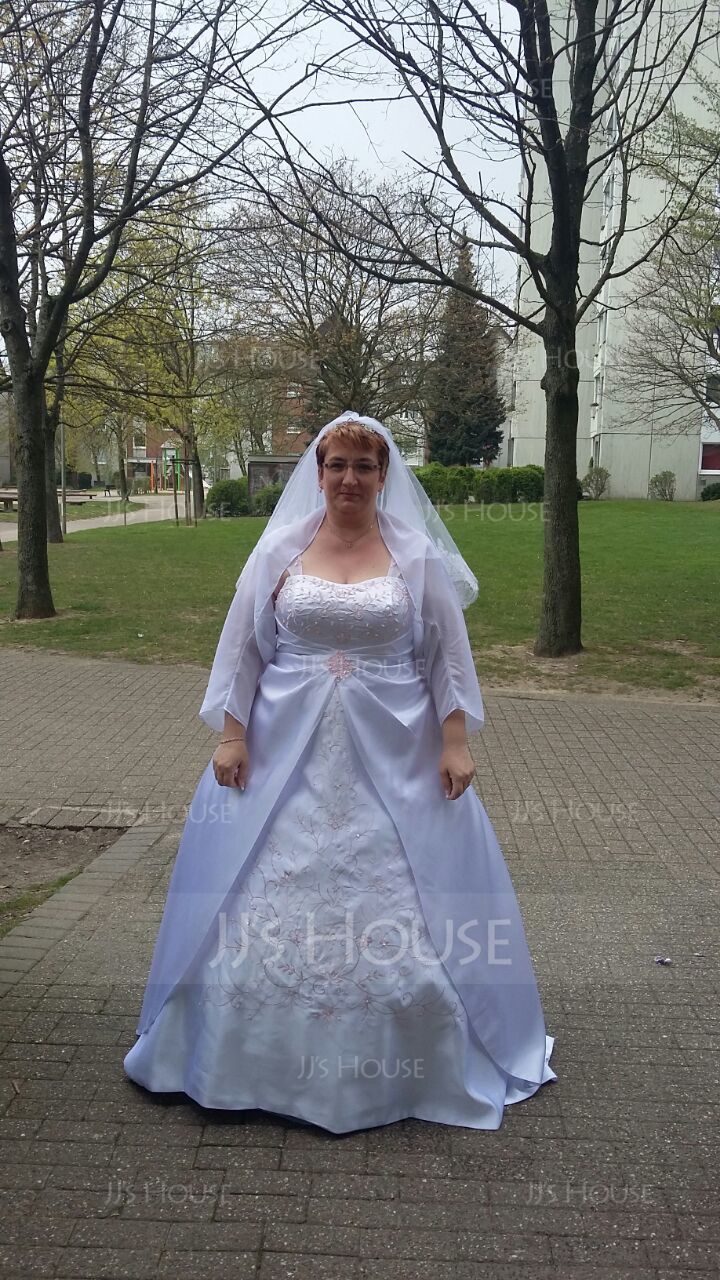 junegaujot74
2017-04-22 16:09:08
Absolutely a wonderful dress love it . Alittle whiter then ivory but over all great fix well made stunning