Ball-Gown/Princess Off-the-Shoulder Floor-Length Satin Prom Dresses With Beading Sequins
#138377
Product Reviews
Write a review
The dress came in SO much better than I expected!! I knew it was going to look good but I didn't expect THIS good. Besides the scratchy sleeves (which was expected) it's quite tolerable to wear, very comfortable and I'm not worried about it falling off or anything. The color and the poof of the dress came out so pretty. I thought the poof was going to be smaller but I'm so glad it wasn't!
Laura
2020-02-04 04:56:32
Zu der Farbe:
Das Himmelblau entspricht genau der Farbe des Fotos, ein richtiges "Cinderella-Feeling".

Jedoch muss man sagen, dass man auf dem "Beispielfoto" schlecht das eigentliche Aussehen des Kleides in der gewünschten Farbe einschätzen kann. Deshalb poste ich ein paar Bilder, falls es einige gibt, die sich das Kleid auch in hellblau bestellen wollen. :D

Die Verarbeitung:
Ich bin kein Profi, jedoch würde ich behaupten, dass das Kleid gut verarbeitet ist. Es hat mehrere Lagen und ist relativ schwer.

Zum Versand & der Ankunft:

Ich habe das Kleid in der Farbe "himmelblau" am 01.01.2020 bestellt und schon am 09.01. kam die e-Mail, dass das Kleid fertig ist und versand wurde. Am 14.01 kam es dann einwandfrei an.
Es lief also alles schnell, kann mich nicht beschweren.
Jedoch wunderte es mich, dass die Verpackung sehr klein war (für ein Kleid und ein Paar Schuhe), doch es war nichts beschädigt oder fehlerhaft.

Fragen:
Als ich den Service aufgrund einer Frage angeschrieben hatte, bekam ich unter 24 Stunden eine Antwort! Sehr kompetent!

Alles in Allem kann ich empfehlen auf dieser Seite zu bestellen, zumal man auch die Maße angeben kann (da ich sehr klein bin war das super praktisch!). Danke, JJ'sHouse!

debbie_soncini
2019-09-19 19:23:29
this dress tho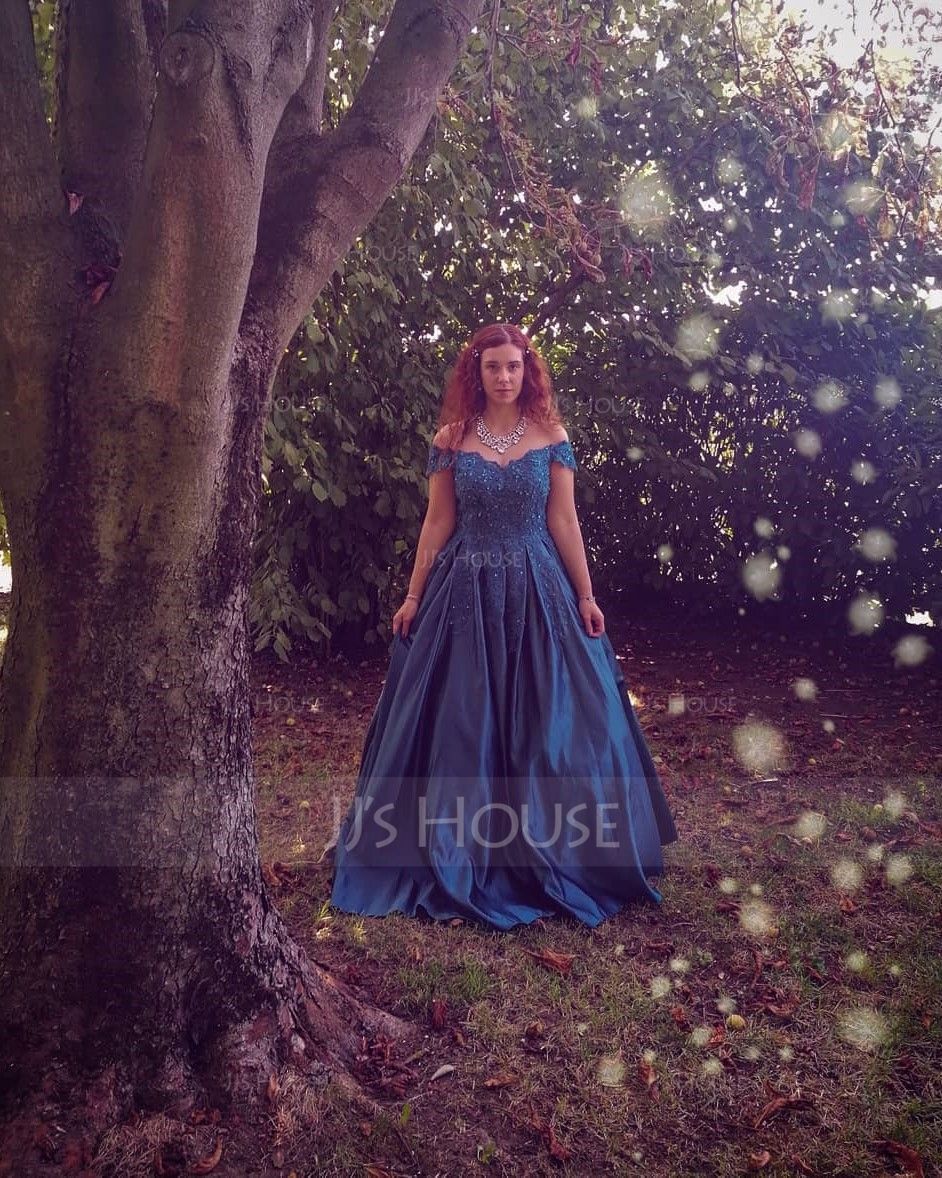 Needed some alterations but other than that it was stunning. Bought this dress for my end of secondary school prom and was not disappointed. The colour was even better than I expected and the material was comfortable and high quality. No problems with zip or and of the embellished details. 100% recommend❤️
Fiona Ballantyne
2019-06-27 01:53:59
This is the second dress custom made for my daughter . On this occasion , it was for her prom. We cannot praise the quality and finish of the dress highly enough. My daughter looked and felt beautiful in it ! We were equally delighted by the earlier dress. Very many thanks . We shall definitely be using you again.
wayne06
2019-05-25 02:50:59
Was very nervous about buying a prom dress online but the whole process from start to finish was easy.Once she had chosen a style we sent for a swatch to check the colour then ordered custom made to ensure a good fit. The dress was amazing and made& delivered quickly. The online support was also very useful for any queries we had. I would not hesitate to recommend them.

Alyssa
2019-05-06 08:51:29
I got custom alterations and it came out perfect. Last year I wore a dark colored dress to prom and I usually wear darker clothing..this shade was perfect to get me out of my comfort zone and feel beautiful! No other dress looked quite mine. This dress is simple yet gorgeous. Totally recommend!

Catharina Côté
2019-04-24 15:59:46
This dress is AMAZING, the fabric is perfect ans the embroidery are really cute

Debra Louise Dixon
2019-04-18 23:37:58
I ordered this for my daughter for prom. I wasn't sure about ordering online so went for custom size just in case.
The dress took around 4 weeks to arrive so do order in plenty of time. Also invest in a handheld steamer as the dress will be quite creased when it arrives.
The zips are strong but would have been aided by a hook-and-eye to hold it together whilst zipping up.

We also ordered a pair of silver dance shoes, bag and hair clip, which were amazing value and perfect with the dress.

Would I order from jjs again? Most definitely.

sshaw67
2019-04-11 02:13:36
I was very unsure about ordering from any online site let alone spending 100's of dollars. However the reviews on the website and reviews on independent sites where mostly positive. So I ordered the custom size dress for my daughters formal. We did order the free swatches before which made the colour seem real.
We were so pleased with the dress when it came. It was packed inside out to protect it and in a smaller box than I expected. It fitted perfectly- needed no alterations. The dressmaking was fabulous and the material was high quality- especially the lace and beading. The company kept me informed of when it had been made, when it was boxed and then shipped.
I would recommend that any order is done with plenty of time before you need it as most negative reviews were about delivery time - the guide is pretty accurate but you should always leave extra time.
My daughter received so many comments and she looked great. We originally saw a very similar dress in a store but that was $700. So this was perfect. We are defiantly ordering for here again. And so are many of her friends.