Ball-Gown/Princess Illusion Court Train Tulle Wedding Dress
#145300
Product Reviews
Write a review
sdmaryschott
2019-03-27 23:48:35
I was extremely satisfied with the dress. It has a nice weight to it, great flow, and the buttons at the back of the dress look great and work well (though you will need someone to do them, and undo them, for you). I got the custom-sizing for mine, which turned out really well. There was some extra space in the chest area because I am not well endowed, but it wasn't really noticeable. Also, the waist seam is much more visible in person than in the pictures of the model. That said, it wasn't a big deal. Lastly, the detailing is composed of pretty intricate appliques so be somewhat gentle with the outside of the dress pre-wedding day.

I ordered the dress in white and wore a poofy slip underneath, though the dress held pretty good shape itself (it has quite a few layers). At the time I was about 143 pounds and stood 5'4" plus another couple inches including heels. I ordered the dress a liiiittle smaller than I should have, which is why the back is wrinkled in some of the photos.

Overall, this is a great dress that will make you look and feel like a princess, I would highly recommend to anyone who wants a reasonably-priced wedding dress. :)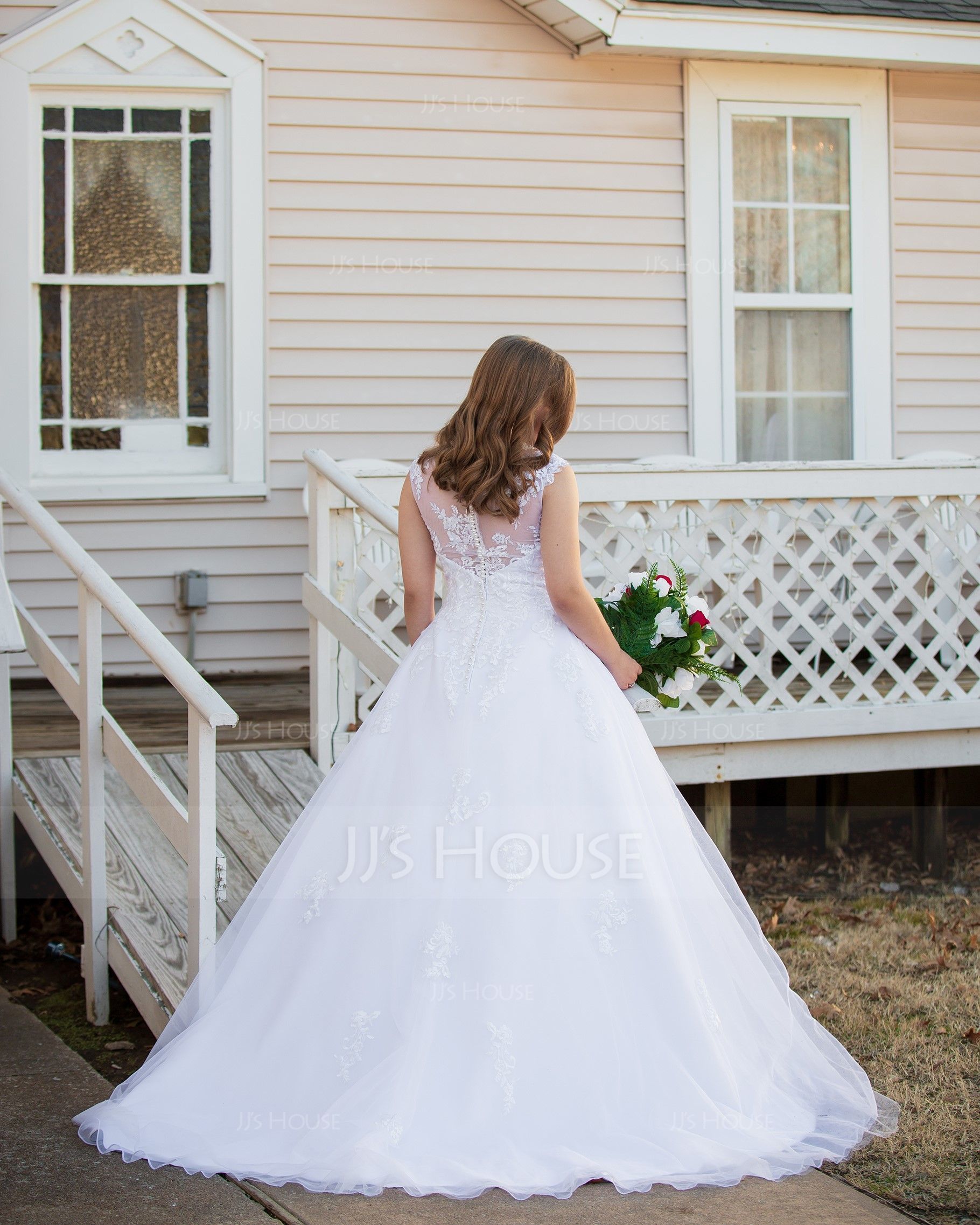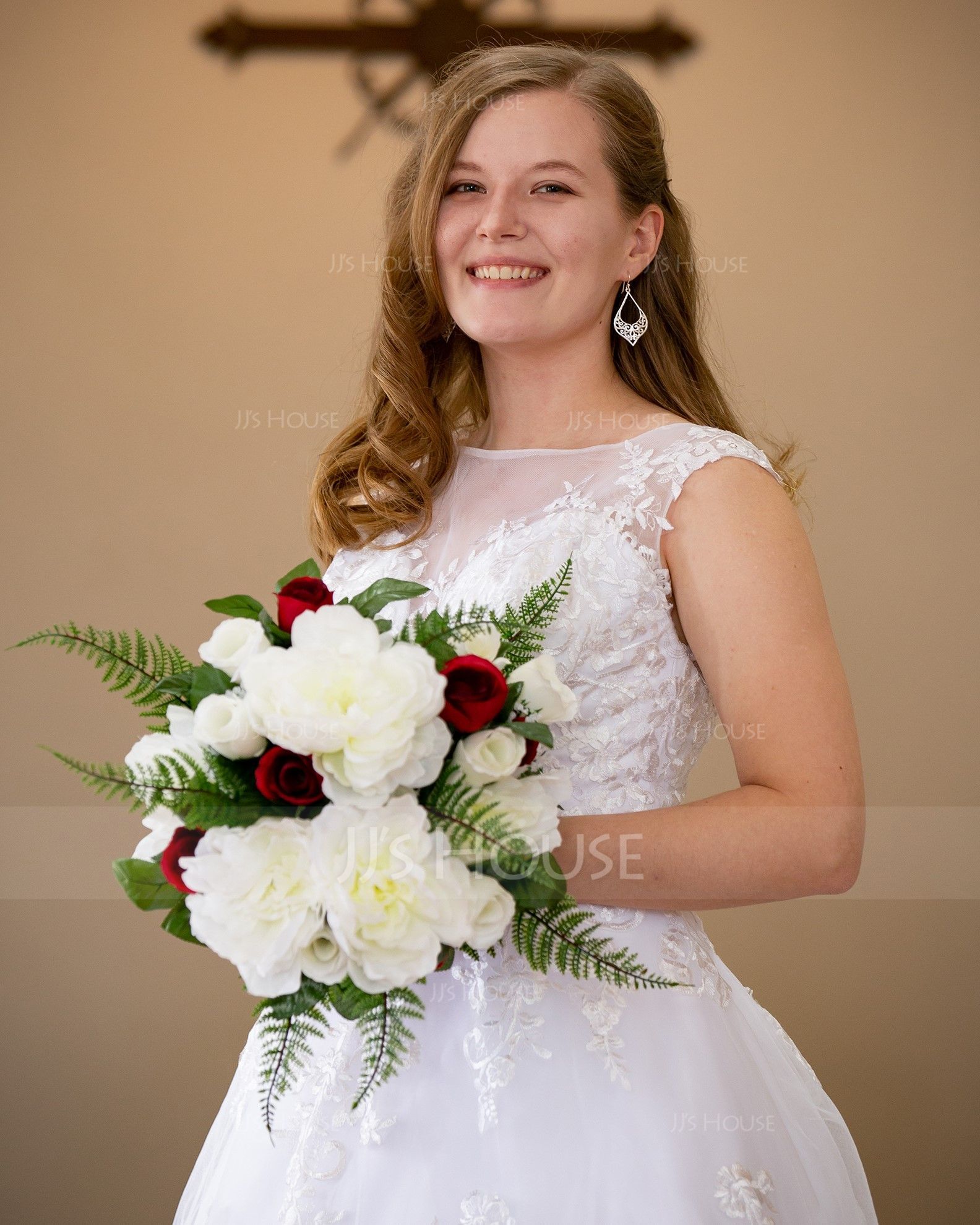 sdmaryschott
2019-03-26 15:31:28
I was extremely satisfied with the dress. It has a nice weight to it, great flow, and the buttons at the back of the dress look great and work well (though you will need someone to do them, and undo them, for you). I got the custom-sizing for mine, which turned out really well. There was some extra space in the chest area because I am not well endowed, but it wasn't really noticeable. Also, the waist seam is much more visible in person than in the pictures of the model. That said, it wasn't a big deal. Lastly, the detailing is composed of pretty intricate appliques so be somewhat gentle with the outside of the dress pre-wedding day.

I ordered the dress in white and wore a poofy slip underneath, though the dress held pretty good shape itself (it has quite a few layers). At the time I was about 143 pounds and stood 5'4" plus another couple inches including heels. I ordered the dress a liiiittle smaller than I should have, which is why the back is wrinkled in some of the photos.

Overall, this is a great dress that will make you look and feel like a princess, I would highly recommend to anyone who wants a reasonably-priced wedding dress. :)

kelli686
2019-01-21 11:56:13
The dress is very beautiful, it exceeded my expetations. The fabrics is really light and very suitable for the hot climate in Brazil. It was very well done and I fell in love with the details especially the back of the dress. I ordered a customized size, it fit me well, just the bust stayed a bit large but there was no need of adjustments. The dress arrived on time.

O vestido é lindo, superou minhas expectativas. O tecido é bem leve e bem apropriado ao clima quente do Brasil. Foi muito bem feito e me apaixonei com os detalhes das costas do vestido. Fiz o pedido de tamanho customizado, o qual me vestiu bem, só a região do busto ficou um pouco folgada mas não foi necessário nenhum ajuste. O vestido chegou dentro do prazo estipulado para entrega.

Jessika Gleason
2019-01-01 08:37:21
I have ordered from jjhouse in the past and fell in love with the quality of work and material. This made me feel cofident in my decsion to buy my wedding dress from them as well. I ordered and got the alterations done. Upon receiving my dress I was very disappointed. There were 3 obvious rips in the seeems, there was a few of the intricate lace work that wasn't fully sewn on and the sleeves were very tight while reaching forward. This is an issue considering I now have to go and get it re-altered. Just something to know when you pick this dress.
Nicole
2019-01-01 01:02:01
Lovely dress, ordered one size but didn't fit, JJ's house very helpful when sending back and getting a new size!
patisua2013
2018-10-20 05:58:10
the dress was what I expected, excellent fabrics, light and appropriate for the warmth in Florida ... I felt like a princess, everyone was surprised, the dress fits perfect even to me that I am overweight

duyenvuong1802
2018-10-11 14:24:02
It would be nice if I bought it again
amyylicious
2018-10-07 20:06:48
Ordered in Ivory size AU14 but dress was a bit big but otherwise beautiful. JJshouse helped me arrange a quick return and promptly refunded the amount in full, great service.

kaylafillerup
2018-06-24 09:06:24
This dress is EXACTLY what I was looking for and the price is unbeatable! I am 5'7" and weigh around 140-145lbs. I ordered my dress in Ivory in size 10 and it fits perfectly! It's not too heavy and it's just as comfortable as it is beautiful. I am very pleased!
Youlanda_968
2018-05-14 20:55:34
Really beautiful and high quality dress. I ordered custom size and it was perfect fit. Looked pretty beautiful.