Ball-Gown/Princess Illusion Chapel Train Tulle Lace Wedding Dress With Beading Sequins
#54359
Product Reviews
Write a review
ramirafat
2018-05-07 01:04:29
Exactly as i expected and as the way the website describe it, marvelous and fantastic, I'm going to be honest that at the beginning i was so afraid that its ganna look cheap but I was never been so wrong. If fact it was better than i expected, way much better. Thanks

Jade Bonavia
2017-10-18 07:59:26
The dress fit perfectly. Buttons are good as well. If you are adventurous and want to wear heals make sure to notify in the specify box. The material is awesome and no need for an under skirt. I have ordered even a Vail and it really fit well with the dress. Shipping is better than expected. Always on time or before. The chat is very helpful as well. Thank you
Rsullivan92
2017-08-15 07:21:29
I was really worried after purchasing this dress about some of the reviews I saw, delivery wasn't too bad. The dress was what I expected. Thank God. I got a customised one, make sure you are accurate. As I wasn't and the waist was a little big and the length a little long. which made the netting on the neck crinkle in a bad way when sitting. I got it tailored. The buttons and loops on the back are absolute crap, had to get them redone. But overall I loved the dress, its huge and felt like a decent fabric.
Anakaren29
2017-07-06 19:51:53
Dress was great love the fabric as good as any other dress I saw in stores. Quick tip look at the reviews of the dress you like and the pictures submitted give you a more realistic look of the dress! Decently buying from this site again. Delivery was also super fast!

Selina Tee
2017-01-25 16:10:08
Absolutely love every bit of my dress with no regrets once again jjhouse you have done it again
Rea.burford
2016-12-30 12:18:25
Beautiful dress! I never expected to feel beautiful on my wedding day as I'm not only 6ft but well over 20 stone and was 32 weeks pregnant. But in this duress I felt incredible, my husband was brought to tears twice on the day.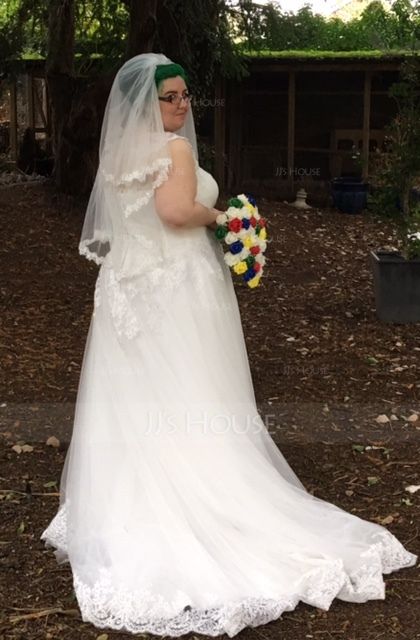 briannejohnson52
2016-11-29 15:51:53
I just received my beautiful dress and it exceeded all of my expectations!! I was a little hesitant to order a dress that I couldn't try on before hand. The minute I saw this dress I knew it was the one. I chose the custom fit option. It fits me like a glove!! I am a plus size woman so this is such a wonderful way to get a dress you really want at great price. I didn't have to be humiliated by some saleslady telling me my dream dress does not come in my size. It arrived early than expected and is more beautiful than the picture. 17 more days till my wedding and I am going to be amazing!! thank you JJ House!!! Pics coming soon
WAGERMANLISA
2016-10-12 06:22:08
This dress is absolutely beautiful. I was very reluctant to order my dress on line due to sizing and quality. When I put it on there is only 1 or 2 alterations that need done and that is only because it feels a little at the shoulders. I'd give it an excellent rating but I don't know how well it will hold up after alterations. I will post after the final fitting and submit photo at that time. I can't wait to wear it on my big day!
enigma819
2016-07-29 05:04:13
I just received the dress and it looks amazing, more than I expected. Looking forward to order a petticoat for it and veil
Very good job, a lot of support from customer service team.
Thank you very much!

memi28
2016-04-07 13:45:25
I bought this wedding dress, and It is absolutely beautiful!! I sent in my measurements and it fits perfect! I was afraid about ordering online, but Don't be afraid they made the dress exactly I was looking for as you can see in pictures it is very elegant and really good quality.. I'm so sure my dress will be perfect for my special day. I recommend the product and the brand. REALLY GOOD JOB Jjshouse! and I would like to take this opportunity to thank all the people that customed my dress! Thank you to the support was also good and really helped me alot.

THANK YOU JJSHOUSE AGAIN.. I AM REALLY HAPPY!!!