Out of Stock
A-Line Off-the-Shoulder Asymmetrical Organza Evening Dress With Sequins
#116326
Product Reviews
Write a review
Roseanna Gallo
2019-10-20 18:50:26
The dress was spot on in sizing and length, and the colour was beautiful. I have no hesitation in ordering another dress from JJ House. Everyone commented saying this looked divine, and style was way up there!

the dress is very high quality, all like in the description
ritaswalsh
2019-04-03 07:59:56
Colour match was perfect. Size is a little on the small side but overall delighted with the dress.
sophie
2018-09-13 19:20:49
Perfect fit, came on time, lovely colour exactly what i picked from colour match, over all very pleased

Isabell Chevremont
2018-08-22 08:26:40
The dress is for my wedding and I think it looks fantastic. It fits very well and the length is just right. The quality is very good. I would definitely order here again.
Thanks for the great dress
michellem.romano
2018-08-09 17:38:24
Beautiful gown! Wore it to the JURASSIC WORLD: FALLEN KINGDOM PREMIERE!
blancaaa69
2018-06-12 16:36:33
I order my dress from here and at first I was very scare because it is very hard for me to order online because of my chest but i send my measurements and it was perfect very happy with the color and the fabric. Thanks

marimtareq
2018-05-31 04:12:44
The dress is beautiful. The pictures show everything. The size I measured exactly before ordering with me and decided accordingly for size 32. I like the dress very well and I am happy to be able to put the dress on my prom. For those who can not decide, buy the dress and you will not regret it.
wandalew1
2018-04-27 04:28:00
Absolutely fabulous....the experience from start to finish was effortless! My daughter had a huge red carpet event she was attending and she needed a Burgundy gown....my pocketbook needed something i could afford. I went online, found JJ House and followed all of their instructions. I did the custom measurements because this gown needed to form fit and JJ House did exactly what they said! They tell you up front it will take about 30 days and I received the gown on time! I made a couple of tweaks to it but, overall the gown was gorgeous! Everyone asked where did you get that gown! We Love JJ House, we will definitely be using them again! ❤️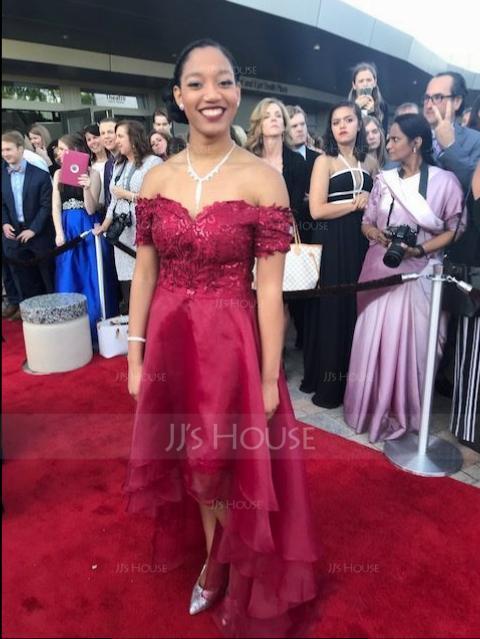 sapphirelabelle
2018-04-26 17:30:34
Ordered this dress for my daughter. Sent in custom measurements, requested special details(such as covering up areas that were sheer, raising the cleavage/back also, and extra fabric for shoulder straps) and the dress fit very well. Loved their customer service and attention to what I was requesting. Despite the fact, that I was panicking that the dress would not arrive in time, I explained when I needed it once again and they more than met my expectations. I had a few days before my daughter's event to add the straps I needed to(due to school modesty guidelines) and also added some Swarovski crystals throughout the bodice. The pictures really don't do the dress justice, unfortunately. I will be ordering again for the next event!